Whether you already love classical music, or have always wanted to try it, the high price of tickets these days can be a real barrier to attending live concerts. Welcome to Free for All at Town Hall, the series the New York Times calls "essential and invaluable." We present superlative artists in an ideal setting ALL AT NO CHARGE. Tickets for all Free for All at Town Hall concerts are available starting at noon on the day of every concert. Tickets are for assigned seats, and are distributed on a "first-come, first served" basis, two tickets per person, per concert. New York's historic Town Hall comfortably seats 1500 people, and is a great place to experience a live concert.
Fake Watches – Authentic Quality Replica Watches at Affordable Prices
We believe that great music belongs to everyone and that all should feel welcome at concerts by the greatest performers of our time.
The season will open on April 29 with the beloved soprano DAWN UPSHAW. A special Mother's Day program will follow on May 13 featuring the New York debut of a star trumpet player from Great Britain, ALISON BALSOM, who was recently voted by Grammophone Magazine as one of tomorrow's classical music superstars. NADJA SALERNO-SONNENBERG and ANNE MARIE MCDERMOTT, who opened the inaugural Free for All at Town Hall in 2003, will return to play all three of the Brahms Sonatas for violin and piano on May 20—a celebration of the 25th anniversary of Ms. Salerno-Sonnenberg's debut. Finally, in the spirit of truly helping an artist to build a loyal following, we have invited KONSTANTIN LIFSCHITZ for a triumphant return engagement to play both Books of Bach's Well-Tempered Klavier. His huge success last Memorial Day weekend performing Shostakovich's Preludes and Fugues, which are based on the Bach, made this a natural for us. Today it is extremely rare for any presenter to immediately re-engage an artist for the very next season. We are so excited to take this worthy step with Free for All at Town Hall.
Charter Sponsor:

Media Sponsor:

Free For All draws an enthusiastic crowd.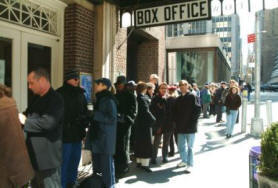 Click here to see more photos of Free For All.
Be among the first to find out about upcoming concerts by joining our mailing list!
Copyright Twin Lions, Inc., 2003
developed by BitFlip Interactive Group
hosted by Panix

maintained by north40creative